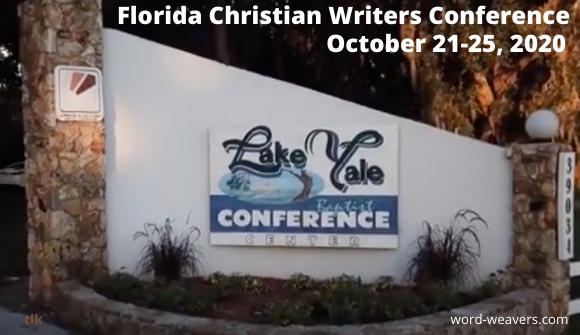 Florida Christian Writers Conference 2020 – A Recap
Five days. How to change your life in five days? Or maybe how to reinvent yourself in five days?
I chose the title, Processing my Fourth Christian Writers Conference. Kansas City was the first, She Speaks in Charlotte next, then Blue Lake in 2019. Each left me feeling unqualified and lacking confidence. Following Blue Lake in Florida I joined Word Weavers. It was unlike any group I'd been a part of.
October 21-25, 2020, the year of the mask, I attended the FCWC in Leesburg, Florida at the Lake Yale Baptist Conference Center.
Each of the 130 attendees could sign up for three fifteen-minute sessions with an editor, publisher, agent or keynote speaker. We also had to choose one continuing class from seven being offered. Tough choices, each offered the highest caliber of teaching. We would spend two hours each day with the person we chose. I was with Carol Kent in a class of 12-15. My hand outs are like gold. As much as I wanted to look like her and speak like her and, have the audience she has . . . I wouldn't trade even one single day of my life for hers. She has experienced more than her share of heartache and pain.
I carried my backpack with my laptop computer, at least two copies of my spiral bound, 160- page book, a journal, snacks and chargers for phone, etc. Any interest in my book was for a digital copy (not paper). I continued purchasing books from the conference bookstore and adding them to the weight on my back. My load became heavier and burdensome.
Let's stop right there for a kingdom transition. We can carry a heavy load with us daily that our Abba Father doesn't intend for us to carry. False guilt, regret, self-pity, unrealistic expectations piggybacking on comparisons to others. We don't stop to consider if what we are carrying is even pleasing to Jesus. He alone is our audience of One. He alone is the One we need to please. And His Word says, without faith it's impossible to please Him. Heb 11:6.
Let's unpack that together. If faith in God is the greatest way to please Him, then carrying guilt is not believing He has forgiven me for any and all sins when He went willingly to the torment of the cross. If my faith pleases God and I knowingly carry regrets and self-pity, I'm denying His promise of abundant life. (John 10:10).
My unrealistic expectations may need to be unpacked also, to determine if I'm seeking to promote Jesus Christ or (Jeanie Connell). If my goals and dreams are to glorify God, then I can accept that nothing is impossible for me and I can accomplish it with only a mustard seed of faith. (Matthew 17:20).
Comparing myself to others may be the heaviest item in my backpack and the most offensive to my Creator. The first three words in Jeremiah 29:11 are For I know . . . Nowhere does the Bible indicate that He has given us the plan or outline for our lives. Instead it reminds us that He is the Potter and we are the clay to be shaped and molded into His image. How sorrowful we make our Father when we refuse to embrace His purpose for us and try to model ourselves after someone else, as if the King of the universe made an inferior choice regarding His plan for me.
Not until the end of the Christian Writers Conference, did I realize that my heavy load was completely unnecessary. I put my backpack away and felt the freedom to be myself. No one left to impress. No more competition. Like a sponge, trying to soak up all the information and experience from successful writers, I was dripping wet. I didn't want to be squeezed out and possibly lose any of the wonderful gifts I'd been given. Unlike the backpack, I would carry these inside my heart.
Jesus gave me the best present of all, my story. Reminding that no one else could tell it, but me.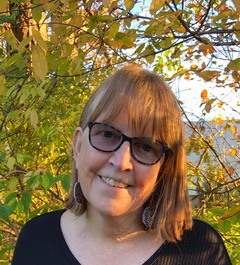 Jeanie Connell is an author, songwriter and intercessor who loves writing poems and devotions. She lives in Franklin, TN with her husband Michael. They are blessed with three married kids and three grands. Jeanie has recently finished writing her God-story, Promise You Won't Remember.