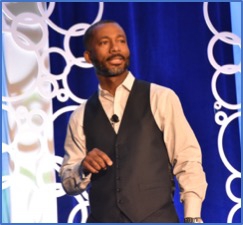 Rick is a speaker, author and workplace consultant. He successfully used the launch of his book to build a business that consults in the areas of workplace engagement, and how individuals manage and emotionally process their careers. He's worked with organizations such as Garden of Life®, GE®, Fortune 100 Financial institutions, Florida Governments Financial Officers Association, and multiple business owners.
Rick has been in the banking industry for over 25 years, and currently leads a municipal banking team in the Southeastern U.S. He resides in Orlando with his Wife of 22 years and their 3 children.
Rick's activities include the following:
The author of Outgrow Your Space At Work: How To Thrive At Work and Build a Successful Career.
The creator of the CareerWhitt® Assessment tool–a survey that identifies whether values or emotions are shaping your career thinking. An active key note speaker and workshop facilitator in the areas of career, employee engagement and workplace culture.
The host of two podcast shows: On Your Way To Work® and Career Gems, with more than 200 episodes intersecting the workplace, family life and career issues.
You can connect with Rick at:
Website: www.rickwhitted.com
Twitter: @rawhitted
Facebook: Facebook.com/RickWhitted
Instagram: Instagram.com/rawhitted
YouTube: YouTube.com/RickWhitted
Workshop Presented by Rick:
Turn Your Book Into A Business
More than 600,000 to 1,000,000 books are published in the U.S. alone each year. So how do I get noticed in a very crowded space? Well, it won't happen because you wrote a book and received a contract from a publisher. Understanding a couple truths are essential: Publishers publish and distribute. Agents make connections and help negotiate contract. Authors sell books. In this workshop I will use over two and a half decades of corporate banking and business experience to help you approach your creative craft from a business owner's perspective. What are you selling? What is your expertise? And, what is your brand? Learning to strategically present your book to the world through the lens of these questions critical to building an "Expert" platform.