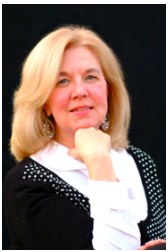 Karen Moore is the author of more than 100 books in the inspirational and devotional book categories. Some of her best-selling devotionals include: Prayers from the Heart, What a Great Word, You're Worth More than Rubies, Every Day Is Mother's Day and The Heart-Shaped Life Daily Devotional. She's a writing conference and women's conference speaker, an author coach, and a content provider for Stationery and Gift markets.
Karen has published books with F&W Publications, Thomas Nelson, David Cook, Simon & Schuster, Zondervan, Harper Collins, Barbour Publishing, Abingdon Press, Faith Words/Hachette, Christian Art Gifts, and Bristol Park Books. Karen has several million books in print in English, Afrikaans, Spanish, Japanese, and other languages.
She has an author page on FB and on Amazon.com and will be launching a podcast called "It's Still Possible!" soon. She has spent her career in the greeting card industry and in Christian publishing. Karen listens with her heart, writes with compassion and endeavors to inspire her readers.