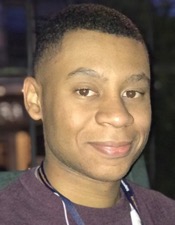 Christian is an audio and software engineer by training. For the past three and a half years he has worked in the software engineering division at Northrop Grumman, and is in his final year at UCF receiving a Bachelors Degree in Computer Science. Christian has multiple certifications in the area of Digital Audio Production—including Broadcast Announcer, Audio Equipment Technician, Sound Engineering Technician, and Broadcast Technician. He is also certified in the Logic Pro X digital audio workstation. On top of school, work and industry certifications Christian has produced multiple podcast shows. Since late 2014, his accomplishments have included the following shows: On Your Way To Work, Career Gems, and Wisdom on Trial. He has also consulted and creatively contributed to multiple projects in that time. His expertise is in producing a podcast from concept to platform launch.
Workshop Presented by Christian:
How to Successfully Launch a Podcast (And Increase Your Readership), Co-taught with Sharvis Whitted
Podcasts have seen a tremendous surge in popularity in recent years. They offer on demand, engaging and targeted content. Podcasts are a great way to broaden your reach and deliver great content to your readers. If you've ever considered starting one this class for you. We'll show you everything you need to launch your own podcast.