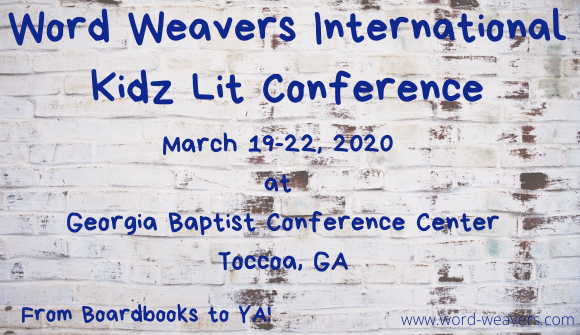 Attention Writers and Authors of All Things Kidz!
Have you registered for Word Weavers International
Kidz Lit Conference?
Check out some of the great faculty ready to take your writing to the next level:
YOUR HOSTS
Eva Marie Everson
Mark Hancock
with
Taryn Souders
KEYNOTER
Dandi Daley Mackall
EDITORS
Michelle Medlock Adams
Jesse Florea
Tessa Emily Hall
Dori Harrell
Courtney Lasater
Nancy Lohr
Ramona Richards
AGENTS
Sally Apokedak
Tessa Emily Hall
WRITERS/FREELANCERS
Jill Roman Lord
Leslie Santamaria
Taryn Souders
ALSO THERE WILL BE:
ONE-ON-ONES
Schedule one-on-one appointments with members of our faculty to receive direct feedback on your writing and advice on how to move your dream forward. They may even offer you a publishing or representation contract!
ADVANCE MENTORING
How would you like to spend a half hour with one of our mentors whose sole concentration is you and your writing career?
Going beyond the usual 15-minute one-on-one meetings, Advance Mentoring is your opportunity for a half hour with mentors who are also part of our faculty. During your time together, mentors pinpoint the strengths and weaknesses of your work as well as discuss career goals in a more detailed way.
Here's how it works: After looking at the mentor list, email your choice of mentor(s) to request availability.
THEN: you mail (snail or e, to the mentor) a one-sheet about yourself and your work, the first ten pages of your WIP (if available and appropriate to the genre), and an overview of your goals, along with a $40 check or money order, made payable to the mentor who will set a meeting time for you after they arrive at the conference center. You should check their time sheet first on the day you schedule appointments so as not to double book.
The Conference is eight weeks from today, don't let it slip by and wish you'd gone!
Register by clicking here —> https://kidslit.webconnex.com/KidzLit
Hope we see you there!