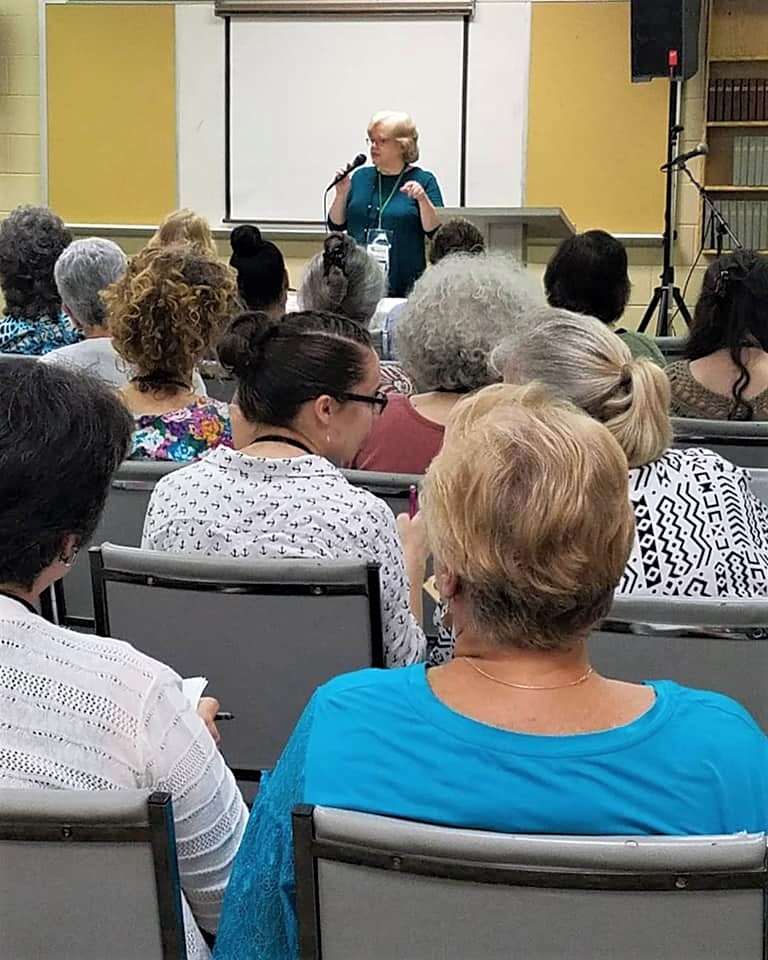 PLEASE NOTE: Our schedule is not exact. We are adding classes and the times of these workshops may change.
Thursday August 15, 2019
1:00 Registration Begins
3:30 – 4:30
Pitch Studio with Michelle Medlock Adams
In this studio, you'll learn how to craft a perfect pitch. Whether you're pitching a nonfiction book, a children's series, or a novel, the mechanics of the pitch are the same, and so are the results. From the introduction of the main character to the hook to the promise of the premise, Michelle will walk you through what makes a powerful, memorable pitch. She'll also share how to make the most of those 15-minute appointments with the editor you've been stalking.
Lingo & Basics with Cindy Sproles
Often, conferees walk into a conference and feel as though they entered a foreign country without a translator. This one-day class will focus on writing and publishing jargon familiarizing conferees with those initials they hear, such as POV, GWS, RUE. They'll learn publishing terms such as first rights, queries, cover letters, lead time, pay on publication and even proposals etc. Once you understand the lingo things fall into place and you can roll through a conference confident and comfortable. This workshop will also look at the basics of Christian publishing, such as protocols and specific etiquettes.
4:30 – 5:00 Faculty Meeting
5:00 Dinner
7:00 Opening Session with Praise & Worship and a NEW fun way to get to know the faculty!
8:00(ish) Late Night Workshops
Andy Lee
Building Your Platform with Online Bible Studies and Live Video—Whether we like it or not, video is here to stay. People like it. People watch it. And it provides an amazing platform to reach potential readers. In this hour workshop I'll share how I've grown my e-mail list with online Bible studies and how I've incorporated live video into those study groups as well as daily broadcasts that reach hundreds every day. You'll learn:
How to capture e-mails of online study participants.

Tips on making a good live video.

How to integrate your blog with the live video and YouTube.

Tips on making a YouTube channel.
Kristi Ann Hunter
Hook, Line, and Sinker: Grab Your Readers from Page One—Today's books have about one page to snag a reader's attention. Sometimes you only have one line. Then, once you've gained their interest, you've got to keep it. In this class you'll learn why certain lines are more important than others and how to structure them to keep your reader turning pages all night long.
Friday, August 16, 2019
7:30 – 8:30 Breakfast / VIP Breakfast: TBA
9:00 – 9:45 General Session / Praise & Worship / Keynote Speaker
10:00 – 12:00 Critique Session Group #1 / Led by Lindsey Brackett. Must pre-register. Details to come.
10:00 – 10:50 Workshops
Michelle Medlock Adams
Writing for Children: Breaking into the CBA Market—In this workshop, Best-selling, Award-winning CBA Author Michelle Medlock Adams will share how to break into the world of writing for children in the Christian realm. From writing short stories for Sunday School take-home papers to crafting Vacation Bible School curriculum to writing a best-selling inspirational picture book, Michelle will highlight the various publishing opportunities in the CBA market. As someone who has sold over 4 million books in the CBA market, Michelle will also share tips and tricks for selling to Christian Publishers such as Worthy Kids, Zonderkidz, Concordia and more.
Katy Kauffman
How to Make Scripture Come Alive in Your Writing—Since Scripture is alive with truths and promises, with hope and healing, how can we effectively present its message in our writing? We can "scrapbook" it—we can share it with personality, charm, fresh insights, and a unique approach. We can craft first lines and lead-ins to draw the reader into our message. We can write about the topic from the inside out, not from the outside looking in. Whether you write books, articles, or blog posts, this workshop will show you ten essentials for writing about the Word of God with richness, vitality, and everyday relevance.
Julie Lavender
Extra! Extra! Read All About It!—Have you ever dreamed of seeing your byline on the front page of a newspaper? More than 1300 daily newspapers and other weekly ones fly off the presses in the wee hours of the morning, and your local newspaper needs fresh content with every issue! With that necessity for constant content, breaking into newspaper writing is often easier than getting other writing gigs, and you can build writing credits quickly. Find out how to write for newspapers and how to share faith-based, God-stories in the pages of a newspaper.
11:00 – 11:50 Workshops
Kristi Ann Hunter
How to Write A Sweet Romance—Romance is the best-selling genre of fiction, but what makes a successful romance? Explore the aspects of reader-adored journeys of love and how to explore the aspects of growing affection, no bedroom required. It is no secret that many readers love a good romance. They adore that journey of growing affection, from the warm fuzzies to the devastating fights to the swoon-worthy happy endings. Learn what makes a good romance, tips for moving the relationship along, and how to handle those kisses. What makes a good romance? How do I show a realistic growth in the relationship? Are kisses required? In this class we'll look at the difference aspects of writing romance that is both swoon-worthy and God-honoring.

Denise Weimer
Integrated Inspirational Writing: Making Spiritual Themes Organic—Many publishers today, including some Christian houses, are moving away from overt, evangelical presentation of faith elements in the novels they publish. For authors who want to infuse their stories with spiritual themes, it doesn't have to be all-or-nothing. Learn some tips for honoring Christ in your writing while reaching a broader readership.
Edie Melson
Soul Care for Writers—The rhythm of a healthy writing life. In this session Edie will discuss schedule options (working in chunks of time, working in the spaces, and the importance of a day of rest) She'll also discuss creativity boosters – how a day away (or a day off) can truly help writers get ahead with writing. She shares multiple scriptures to help writers determine what a healthy writing life looks like for them.
Noon – 1:00 Lunch
1:30 – 3:30 Critique Session Group #2
1:30 – 2:20 Workshops
Lori Hatcher
The Art of the Interview—As the editor of Reach Out, Columbia magazine for nine years, I've had the opportunity to interview quite a few Christian leaders—Anne Graham Lotz, Steven Curtis Chapman, Dr. Kevin Leman (Have a New Kid by Friday), Dr. Gary Chapman (5 Love Languages), and singer Fernando Ortega come to mind. I've learned by trial and error how to conduct an interview and have collected some fun personal stories in the process, like the time I baked oatmeal pecan cookies for Dr. Chapman (Did you know his love language is acts of service?).
Linda Glaz
What Do Editors and Agents Want?
Description to Come
Diana Baker
Writing Devotionals that Impact Lives—A class for writers who want to share God's Word with readers in a concise way that builds their faith, encourages their walk with God, and comforts them in difficult situations. This class will teach you how to choose a scripture theme and write a strong devotion that will draw readers in, hold their attention, and impact their lives for Christ. You will learn how to write tight and how to use personal experiences, anecdotes, and the five senses to make the scriptures come alive for readers and encourage them to apply it to their lives.
2:30 – 3:20 Workshops
Cindy Sproles
I Can be Published Just Because I Can—In the current state of publishing, more and more writers are going the self-publication route. In this class we will discuss the pros and cons of self-publishing. We'll talk about "what is the rush" and if "rushing into publication because you can" is best for your career. Conferees will get information on how to approach self-publication from a business standpoint (costs), and where NOT to cut corners. We'll jump into the importance of financially investing into your work to make it best it can be before it publishes. And finally, we'll delve into the real reason you want to be published – do you have a platform and an important message, or do you just want to be published. All these things are important to examine before you sign on the self-publication dotted line.
Beth Patch
Writing for CBN—What types of articles will CBN.com consider for publication? Where do writers/publicists send them? What is the submission process? What does CBN pay? Get an insider's glimpse at the process, promotion, and exposure your published content will experience.
Sally Apokedak
Opening Books with a Compelling Story World—A look at openings of novels, particularly at the story world and the characters' lives, with an aim at showing you how to paint the world and unfold the characters so that the reader feels she is interacting in a real world with real characters.
Too often story worlds are thin and characters are dropped onto the pages in the openings of books with no backstory. Just because we say we want you to start in
medias res and we don't want info dumps that doesn't mean the characters should have no backstory and they should be dropped into a world that doesn't exist past
the edges of the present scene. What happens in the world outside of the present scene and what happened to the character before the book opened affects the
character's life.
3:30 – 4:20 Workshops
Ramona Richards
Why Did I Get Rejected?: A View from Behind the Desk--Editors don't look for a reason to buy the novel you've struggled with for months—or years! They look for a reason to reject it. Don't give them one. This workshop provides a glimpse from behind an editor's desk: what they look for, why talent is not enough to get your manuscript published, and traps to avoid in such areas as format, presentation, and the development of character and story arcs.
Taryn Souders, Cindy Sproles, Sally Apokedak
Writing for the General Market—Panel discussion on the differences in writing for the general market vs. writing for the Christian market.
Connie Stevens
Short and Sweet--Writing Novellas That Speak to the Heart and Sing to the Soul—Creating a compelling story with fewer words will test the skills of the novella author. Use tools like tight writing, power verbs, deep POV, and unexpected twists to form unforgettable characters and spin an intriguing story to catch the attention of an editor and leave your readers wanting more--in only 20-25K words.
4:30 – 6:00 Free Time
6:00 – 7:00 Dinner
7:30 General Session / Praise & Worship / Keynote Speaker
Saturday, August 17, 2019
7:30 – 8:30 Breakfast / VIP Breakfast: TBA
9:00 – 9:45 General Session / Praise & Worship / Keynote Speaker
10:00 – 12:00 Critique Session Group #3
10:00 – 10:50 Workshops
Sally Apokedak
What is THEME and How Do Writers Weave It In?
Edie Melson
Making Memes & Working with Images—in this workshop Edie shares a hands-on process for making memes on a laptop or cell phone. She'll cover all the major platforms, Canva, PicMonkey, iPiccy, WordSwag, and others. Those who wish to can practice in the class as they learn.
Lori Hatcher (with Jean Wilund)
Why Writers Must Also Be Speakers—Most writers prefer the solitary confines of their writer's cave, emerging only occasionally for family dinners and social gatherings. "I'm a writer, not a speaker," they say, and retreat to the safety of their own company. Unfortunately, times have changed. Today's increasingly public society requires that writers must also be speakers if they hope to have successful careers. From the elevator pitch, to the agent interview, to the speaking invitation that follows your book publication, writers must be prepared. This workshop will share nine reasons why writers must be speakers. We'll also enjoy a peek into one of the foremost speaker training programs in the world, Toastmasters International, through an interactive demonstration by local members.
11:00-11:50 Workshops
Ramona Richards
Get Out of the Dumps! Turning Backstory into Character Development—"Too much backstory in the first chapter." It's the response every author dreads. It's the one sure-fire way to get a book rejected. Backstory, everyone says, should be delivered with an eyedropper throughout the text. But HOW do you do that when so much information is necessary for the reader to understand what's going on? This class breaks down what a backstory dump looks like and offers three main solutions to using "what came before" to support the plot, development the main characters, and provide motivation for supporting characters. (novice & intermediate)
Tessa Emily Hall
Create Book Buzz by Coordinating a Blog Tour—Blog tours are a powerful online marketing strategy that could play a vital role in generating buzz surrounding the release of your book. For each book release of mine, I've found great success through coordinating my own 30-stop blog tours. In this workshop, I'll walk you through the process of finding bloggers, preparing creative material that features your book, and offer tools that will help to keep it organized—all the while coordinating a blog tour that will bring readers flocking to your latest release.
Cheri Cowell
Marketing As Ministry—No one wants to hear about you and your book after the third week of your book's release, so how do you market your book without talking about your book? Join Cheri for this workshop and learn the proven strategy that turns marketing into ministry and sells books.
Noon – 1:00 Lunch
1:30 – 3:30 Critique Session Group #4
1:30 – 2:20 Workshops
Michelle Medlock Adams
Promotion, Publicity and Platform are important at all stages of the publishing process—while you're shopping your book proposal to various publishers, before you finish writing your book, and after your book releases. In this workshop, Best-selling Author Michelle Medlock Adams will cover: the importance of creating a buzz about your book for a successful book launch; ways to promote your book that won't have that "buy my book" in your face feel; how to give more than you take when building your platform and promoting yourself, your book, and your message; ways to use evergreen events, holidays, trends, and newsworthy tidbits to gain publicity for your book (even if it's not a new release); and more. If promotion doesn't come easily to you, then join Michelle for a fun, encouraging, and practical workshop. She will give you the push you need to become a promotional machine!
Historically Speaking – Weaving Historical Details into Your Story with Authenticity—What made "When Calls the Heart" and "Little House on the Prairie" such popular TV shows? People want to see what life was like in the past, but in an entertaining, non-textbook way. This class will show you how to research your historical settings and incorporate all that wonderful information into the lives of your characters and their stories.

Denise Weimer
Creating Heroes Readers Fall For: Building and Relating from the Male POV—We all know men think, speak, and act differently from women, but are we as authors successfully capturing that in our writing? If we want our readers to find our hero believable, much less swoon over him, hours of research and planning should happen before he ever sets a boot on the page.
2:30 – 3:20 Workshops
Edie Melson
Blogging for Writers – One Size Does NOT Fit All—Blogging is still a valuable tool for writers. Edie shares how to find an option that works for each person. Included in this workshop are:
Blogging basics – the why and where

Formatting for the Internet

Focusing your blog

SEO

Keywords, Labels and Tags

How to Title posts for more page views

How to encourage comments
Linda Glaz
Don't Age Out of the System
Description to Come
Bobbie Frazier
Bringing New Life to your Passion Using Videos As writers we must find ways to promote our passions. So as is often said, as writers we must be speakers. But carrying this out comfortably and successfully isn't always easy. Bobbie Frazier recently discovered the fun and success in interviewing people from all walks of life, people she had never before met. In this workshop, Bobbie will guide you through the process of creating a plan of action, scheduling, how to interview guests, and how those interviews can be turned into weekly shows on Facebook and YouTube. Participants will learn how to choose a topic based on their passion, how to find people to interview, create promotional videos, find a video editor, as well as where to tape and how long the videos should be.
3:30 – 4:20 Workshops
Kristi Ann Hunter
Understanding and Writing Deep POV—Whether you heard it in a critique, a contest entry, or a letter from an agent or editor, at some point in your writing career you've encountered the term Deep Point of View. What is Deep POV? How do you achieve it? Do I always have to use it? Learn the answers to both of these questions as well as red flags that show you've fallen out of Deep POV and the cliches to avoid when writing in it.
Bill Patterson
Writing Humor—The Bible says, "A merry heart does good like a medicine." Take a dose in this Humor 101 class! We will 1) laugh together; 2) identify types of humor; 3) stimulate humorous thinking with a writing exercise; 4) laugh together; 5) discuss elements of successful humor; 6) give examples of humor; 7) talk about markets for humor; and 8) laugh some more!
4:30 – 6:00 Free Time
6:00 – 7:00 Dinner
7:30 General Session / Praise & Worship / Awards / Keynote Speaker
Sunday, August 18, 2019
7:30 – 8:30 Breakfast / VIP Breakfast TBA
9:00 – 9:50 General Session – Mark Hancock, Keynote
10:00 – 11:50 Critique Group Session #5
10:00 – 10:50 Workshops
Katy Kauffman
Seven Giants Every Writer Must Slay—The nagging voice of self-doubt and the bully of perfectionism. The taunts of comparison and the strength-draining power of fear. We've all encountered enemies along our writing journey, and they threaten to beat us down and hinder our work. But God has a message for us to share with the world. Discover ten resources every Christian writer possesses and arm yourself with strategies for slaying the giants that hinder your writing's creativity and purpose. This is our time to make a difference, and God wants to use us to share His hope, truth, and love with the world. Don't let any giant stand in your way.
Lori Hatcher (with Jean Wilund)
Yes, You Need a Critique Partner - The Who, What, When, Where, Why, and How of Writing in Partnership—Writing is a solitary pursuit, but writing in partnership with a critique partner can provide accountability, encouragement, objectivity, insight, and friendship. Thousands of writers have discovered the value and joy of participating in critique groups such as Word Weavers International, but what if they took their writing life a giant step further by partnering with another writer to hone and polish their writing projects? In this workshop, we'll discuss four reasons why every writer should have a critique partner, consider four qualities a writer should look for in a critique partner, determine reasonable expectations, and discuss how to lay the ground rules for a successful working relationship.
11:00 – 11:50 Workshops
Ramona Richards
Tearing Down the Walls: Busting Through Five Major Hurdles in Your Career—Every writer encounters brick walls that threaten to bring writing dreams to a screeching halt. Those brick-wall moments happen to everyone. They're a normal part of the process. Success is often a matter of understanding how to tear those brick walls. This workshop is Q&A based and focuses on solutions to five hurdles writers often face: the dreaded proposal, pitching nerves, fear of success and the imposter syndrome, rejection, and marketing anxiety.
Tessa Emily Hall
How to Sell Your Book to an Agent: What to Do and What to Avoid—It's no easy feat to attract the attention of a literary agent, especially when it seems as though they're searching for a reason to reject your manuscript. (Which isn't a far stretch from the truth!) How can your submission stand out in the midst of an agent's slush pile? What you can you do to avoid having your submission deleted as soon as the agent opens your email? Come to this workshop and discover how you can increase your chances of signing with a literary agent.
Noon Lunch
1:00 Head home, filled and happy and ready to write for the Lord!